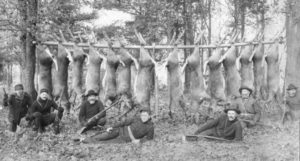 While temperatures here in Superior are hitting the mid-to-upper 60's this weekend, a few of us are looking ahead two weeks and hoping for a little snow by November 19th.  That is the opening day for the Wisconsin Whitetail Deer Hunting season.  For some, it's just this strange thing that those hunters do up north.  For others of us, it means a family reunion, traditions surrounding the first deer shot, a chance to harvest some venison for the freezer, and a chance to get out of this office, into the woods, and just slow down to mother nature's pace for a few days.  2016 brings changes to how we hunt so I want to update all my hunting family and friends on a few of them:
Zones, antler less, and youth.  You will want to be certain you know WHERE you are (allowed to be) hunting, WHAT you are (allowed to be) hunting and WHO you are (allowed to be) hunting with.  In the past twenty years the Department of Natural Resources (DNR) has modified how the state's hunting zones are named and defined.  I am attaching various resources to help you identify what zone number, and type you will be in.  Some areas are buck only, some are buck with antler less option, and some parts of the state are completely a "no harvest" area.  The days of $2 doe tags are far behind us so double check to make certain WHAT you can and cannot hunt for in your location.  The Department of Natural Resources has initiated youth hunt and mentor hunt programs so that children as young as the age of 10 may be out in the woods around you.  These programs also give you a great opportunity to introduce a young person to hunting, but be aware of the possible licensing and firearm restrictions based upon age, whether the youth has completed hunter safety, and hunting dates.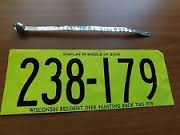 Back tag-less.  The days of those neon back tags are gone.  Remember how you could always hit the local tavern and know who got a buck based upon whether or not the bottom of their tag was missing? No longer. You can now carry your hunting license in your wallet after printing it off online or have it available on your smartphone.  GoWild allows you to purchase your license and even register your deer online.  I have no idea how I'm going to explain this to my 83-year old father.

Validate versus Register.  Remember the days of shooting a deer, removing your back-tag and using a knife to cut those little slots memorializing the date, time and location of where it was killed? Then you attached the "tag" onto the antlers or ears with string, or those even more vintage silver bands?  No more.  "Validation" is done on a sheet of paper now that you print out, carry with you and complete with a pen. The "tag" only needs to be attached to the carcass if you"leave" it.  Since your tag is now a sheet of paper you've printed out, bring a zip-lock bag along so you can put it inside before attaching the bag to the carcass. Registration can happen either immediately (by your smart phone), by 5:00 pm online, or by the traditional method of taking it to a registration station. More details on validation and registration are available in the DNR's updates and regulations, linked below.

Buy this hat from Stormy Kromer at StormyKromer.com

Pink.  I'm not even sure why this happened, but hunters are now permitted to wear blaze/fluorescent pink in addition to blaze orange.  The coverage rules have not changed – 50% of the body above the waist must be in the approved color and any hat must be 50% blaze orange/pink.  I still remember my grandfather refusing to give up his red and black plaid wool coat in favor of blaze orange.  He protested the orange hat too because his Stormy Kromer was warmer.   And if you happen to know me and love me a LOT, Stormy Kromer now has blaze orange and pink hats. For more information you can read the following:
As I spend the next two weeks explaining to my sons more about deer hunting and why it's so special to me I will also be perusing the rules and regulations.  I've learned that if there is one constant about the law, it is that it will change.  Remember a couple years ago when the rules about casing your firearm when in or on a motor vehiclechanged?  I spent an entire lunch arguing with an uncle about whether or not I could sit on a tailgate with an uncased rifle and eat a sandwich. And the disagreement didn't stop there.  It went on for days.  He was relentless about it because he hadn't read the new rules.  So here's my advice – print out the regulations, and browse them.  If nothing else, they are handy to have in the glove box of your truck when a disagreement breaks out.  If you're lucky, you can maybe win yourself a bet or two at the hunting camp/shack or local "registration station."
Most importantly, stay safe out there everyone.  The best hunting seasons are remembered for the fun and the worst are remembered for tragedies not trophies. Feel free to share your deer photos on my firm's facebook page or twitter account.  I know I will!
Johanna R Kirk – Kirk Law Office, LLC
DISCLAIMER: I CLAIM NO RIGHTS to "Stormy Kromer."  They are their own company who makes amazing products that I buy. I have not been paid by them or even asked by them to promote their products.